SUBSYSTEMS OF SQL SERVER PROXIES
Following are the different subsystems of SQL Server Proxies:
ActiveX Script
Operating System (cmdExec)
Replication Distributor
Replication Merge
Replication Queue Reader
Replication Snapshot
Replication Transaction-Log Reader
SQL Server Analysis Services Command
SQL Services Analysis Services Query
SQL Server Integration Services Package
Power Shell
Why so many subsystems?
SQL Server Proxies are mainly used to impersonate different users authentication for a job step.
So if we open the a job step we find the same subsystems shown above as types.
Below are the screen shots that explain in more detail.
New Proxy – Sub Categories: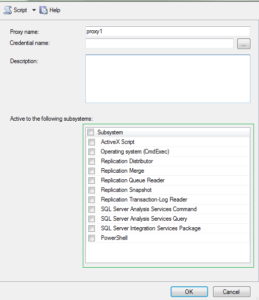 New Job Step – Types: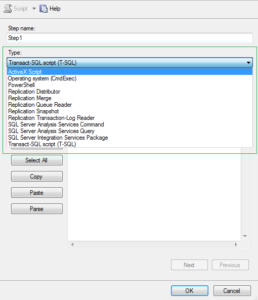 Hence the Subcategories in Proxies are related to Job types in Jobs.